Fiji International - Round 2 State of Play Live
Friday 15th August, 4.15pm
That's a wrap from day 2 of the Fiji International, a day where Jake Higginbottom set the early pace and will now take a two shot lead into the weekend.
Click here to see the final Round 2 leaderboard.
In total 60 players made the cut, which was set at 5-over par.
With plenty of experienced contenders in the top 20, tomorrow is certain to see the chase for the title intensify at Natadola Bay.
Similar weather conditions to today are again expected, so players will hope to have learned a thing or two in today's gusty conditions.
Live coverage of the Fiji International will continue on FOXSPORTS 3 tomorrow, Saturday, from 9.00am AEST.
If you're outside of Australia, please check your local TV guides.

Vijay Singh inspiring the next generation of Fijian golfers
#FijiIntl
#Fiji
http://t.co/yNvu2R45P3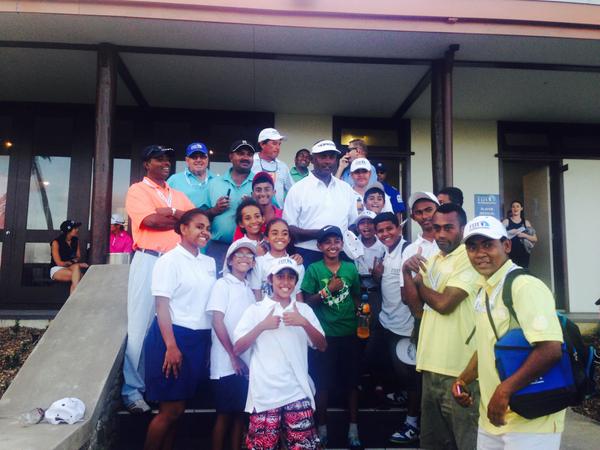 Friday 15th August, 3.30pm
With a par on the par-4 18th, Vijay Singh is safely through to the weekend of the Fiji International.
Otherwise there's been little movement on the Round 2 leaderboard with Jake Higginbottom still leading at 7-under par.
He leads by two over Cameron Smith, Andrew Dodt and Steven Jeffress at 5-under par.
Lucas Lee and Jason Scrivener are a further shot back at 4-under par.
The weekend is shaping up to be a fierce contest with experience and youth amongst the top 20.
A few players to keep an eye on tomorrow will be former OneAsia winner Nick Cullen, multiple PGA Tour of Australasia winner Brad Kennedy, West Australian Veteran Stephen Leaney and India's top ranked player Anirban Lahiri.
All are currently within striking distance in the top 15 and more than capable of making a run at the leaders.
Local fans come out and Welcome Vijay Singh on the 18th
#FijiIntl
http://t.co/EFXf0RBOj2
Can't wait to get out there tomorrow and go chasing
#FijiIntl
Friday 15th August, 3.00pm
All eyes are currently on Vijay Singh as he battles to make the cut which continues to blow out.
After consecutive bogeys on 14 and 15, Vijay three-putted 16 to fall back to 4-over par.
However, he's just birdied 17 and now sits two within the projected cut line at 5-over par with 18 still to play.
Of concern however is Vijay's back which has continued to give him pain throughout his round.
With the cut looking to be made at 5-over, the good news is that Major Champion Nick Price is likely to see the weekend.

Friday 15th August, 2.00pm
Have you noticed some players using carts during the Fiji International?
Here's why....
Rules officials have created a 'local rule' which allows players to use carts on some areas of the course due to great distances between specific holes.

Motorised transportation is allowed on 6,7,8,9 and a cart drop off area between holes 9 and 10; as well as between the 11th green and 12th tee.

Jason Kang hitches a ride
Friday 15th August, 1.45pm
Just because we can't get enough photos of this spectacular Natadola view....
How's the serenity?

Friday 15th August, 1.30pm
Scoring conditions are proving much tougher this afternoon with only 17 players currently under par for the second round.
Not a lot of ground has been made on the leaders with plenty of players now battling to stay on the right side of the projected cut line, currently set at 3-over.
Vijay Singh is flirting dangerously with the cut line, two consecutive bogeys placing him at 4-over par through 11 holes.
.@
PGAofAustralia
having a sick day(manflu) and loving the coverage, just awesome.
Properly good commentators and quality golf.
@
BrettJOgle
Friday 15th August, 12.45am
Still no changes at the top of the leaderboard with Jake Higginbottom's round standing up to the afternoon scores.
Of those in the afternoon field making progress, Steven Jeffress is 1-under through 13 and T4 at 4-under, while Jason Scrivener is also at 4-under although has failed to improve his score from yesterday through 8 holes.
New Zealand's Michael Hendy has improved his position with two birdies through his front nine.
The Kiwi is now 3-under and T7 and in good company alongside Brendan Jones, Bread Kennedy and Michael Sim who played earlier this morning.
Also from the AM field, Cameron Smith still holds the round of the day posting a 4-under 68 in the early conditions.
He holds a share of second position alongside Andrew Dodt.
Michael Sim fired during today's second round
Friday 15th August, 11.55am
Don't forget the Fiji International is live now on FOXSPORTS 3 until 3pm AEST.

Tune in!

Love the
#FijiIntl
Fox Sports broadcast putting a lapel mic on Paul Gow. That stuff is normally only reserved for exhibition
#golf
only
Friday 15th August, 11.50am
While there's still plenty of golf to be played this afternoon, it looks as though a couple of big names won't be around to see the weekend of the inaugural Fiji International.
Three-time Major champion Nick Price finished at 5-over par and is in danger, as is his playing partner Matt Griffin who won the Fiji Open at Natadola back in 2009.
This week, Griffin will be very disappointed to have finished at 6-over.
He's in respectable company however with Craig Parry, China's top golfer Wu Ashun and Korea's Kim Bi-O also at 6-over.
Unfortunately Fiji's Krishna Singh (brother of Vijay) and National Squad member Sam Lee are also done for the tournament finishing at 8-over par.
In good news, Vijay has fought back with his first birdie of the day on the par-5 6th hole to get back on the right side of the projected cut line.
He's now 2-over through 6 holes and looks to have steadied the ship.
Korea's Bi-O is likely to miss the cut as will playing partner Craig Parry
Friday 15th August, 11.35am
If we haven't made you sufficiently jealous of the picturesque surrounds of Natadola Bay, best you take a look at some photos from the last couple of days.
Follow the link below....

Photos: Fiji International Round 2: From where you'd rather be… Check some of these stunning photo's from Nata.
.
.
http://t.co/69y8a2Yfe7
Friday 15th August, 11.25am
There's plenty happening in the Vijay Singh group at the moment, but unfortunately it's not all good.
For the last hole Vijay has been walking with a noticeable injury, most likely to be his back.
Currently on the 5th hole Vijay just chipped a shot from off the green, completely overshooting it and landing over the other side.
As a result, he bogeyed the par-5 5th.
Meanwhile Vijay's playing partners Brendan Jones and Paul Gow are putting on a beautiful display of golf early in their rounds.
Jones birdied the 1st before bogeying the 2nd, but bounced back with another birdie on 5 to get to 3-under par.
Gow likewise birdied the 5th hole and is now at 2-under par.

Andrew Dodt chipping off the beach onto the green? We love Fiji!
#FijiIntl
http://t.co/mnl0TsPjVA
Friday 15th August, 11.00am
The afternoon field is now out on course at Natadola Bay with Jake Higginbottom still leading the way at 7-under par.
Jake leads by two from Aussies Cameron Smith and Andrew Dodt with OneAsia regulars Lucas Lee (Brazil) and Minghao Wang (China) a further stroke back at 4-under par.
In the last few hours the wind has begun to pick up around the course with gusts increasing.
That said, there are still birdies on offer, China's Liang Wenchong currently 2-under through 4 holes.
Liang, regarded as China's best ever golfer, is OneAsia's most prolific winner with four career titles since 2009.
Expect to see him creep up the leaderboard throughout the afternoon.

.@
VijaySinghGolf
teeing off earlier on the 2nd day of the
#FijiIntl
Can he improve on his 73 from yesterday?
http://t.co/OI5stKpVAK
Friday 15th August, 10.15am

If you're ever lucky enough to get to Natadola Bay Championship Golf Course, chances are you might see one of these little critters out and about.
So, what is it?
It's a Mongoose, of course! Or an Indian Mongoose to be more specific.
They live in the scrublands and dry forest around Fiji and can be seen darting around the golf course here at Natadola Bay.
There's plenty of them around Fiji and, with their favourite foods including reptiles, they're also responsible for the lack of snakes seen in and around Fiji.
Consider that your nature lesson for this week!
Friday 15th August, 10.00am
Coverage of the Fiji International just began on FOXSPORTS 3 in Australia and will continue until 3.00pm AEST today.
Check your local guides for local broadcast times.
This afternoon's coverage will feature a number of the overnight leaders including Stephen Dartnall, Rhein Gibson and Ryan Fox as well as Fiji's own Vijay Singh.
Singh was disappointed after his opening round yesterday but is determined to contend today.
With a more familiar wind covering the course today, let's hope the Big Fijian can pick up a few early birdies.
Singh will again play alongside Brendan Jones and Paul Gow, with Gow again to provide 'inside the ropes' commentary' during his round.
Definitely worth tuning in.

Singh and Jones during Round 1
Friday 15th August, 9.45am
Jake Higginbottom has shot to the outright lead of the Fiji International and currently leads by two shots at 7-under par.
Starting the day tied with the leading pack at 4-under par, Jake is already in the clubhouse with a 3-under 69 under his belt, with Cameron Smith and Andrew Dodt two shots back.
It's really no surprise to see Jake performing so well this week.
As a 19 year old amateur, Higginbottom won the 2012 New Zealand Open and has since gone on to impress in the Professional ranks.
With plenty of confidence, he's not affected by competing amongst a more experienced field and continues to rise to the challenge.

Another recognisable name on the early morning leaderboard is none other than West Australian Michael Sim who sits at 5-under par with two holes to play.
While he's been on somewhat of a hiatus in recent seasons, Sim is rebuilding a career that at one stage had him labelled as the 'next big thing' in Australian golf.
Sim was the top ranked amateur in the world in 2005 and the following year went on to join the Nationwide Tour in the US.
From there, he played semi-regularly on the PGA TOUR, before earning his full card in 2009 after winning three events on the secondary Tour and earning a coveted 'battlefield promotion'.
More recently Sim has been plagued by injury and has seeming suffering from a lack of drive to return to the game full time.
That said, in recent months he's shown glimpses of his former self and could use the Fiji International as a springboard back into form.
Plenty would love to see Michael get back to where he was a few years ago.... let's hope he can keep it going over the weekend.

From where you would rather be.
.
.
#FijiInternational
! If you cant be here follow live scores
http://t.co/z6E4omW8ff
http://t.co/TwjeiSnRnO
Friday 15th August, 9.00am
Our Professionals are really loving this week's venue at Natadola Bay! Wonder why? If only we could play here every week **sigh**.

With Mosi at the Fiji International What an event! What a venue
http://t.co/IvMYP9HMpM
Friday 15th August, 8.45am
Looking for live scores throughout the day?
Head to our scores page for hole by hole updates or if youo're out and about be sure to download our PGA Tour of Australasia iphone app from the iTunes store.


Friday 15th August, 8.30am
Bula and welcome back to Natadola Bay where play has been underway for a couple of hours.
Today we're expecting temperatures of between 23 and 26 degrees, scattered cloud cover but still plenty of sunshine making for pleasant conditions.
The only issue today will be breezy winds.
We're expecting a steady SE wind to blow at 12 to 18 mph especially during the afternoon.
Despite the increased winds there have still been plenty of birdies on offer for the morning field but it will be interesting to see how it affects play into the afternoon.

Good morning from Natadola Bay
Powered by Platform for Live Reporting, Events, and Social Engagement